Artwork specifications for your plastic cards
All files submitted must be in a Photoshop or Illustrator 9.0 or below format. We do not support Mac or Native Quark files. Files can be flattened if "print-ready." Please contact us for personalization such as a database of random numbers for specific instructions.
| | | |
| --- | --- | --- |
| Windows | File Format | Mode |
| Illustrator (fonts outlined) | .ai | CMYK |
| Photoshop (layers) | .psd | CMYK |
Template Files: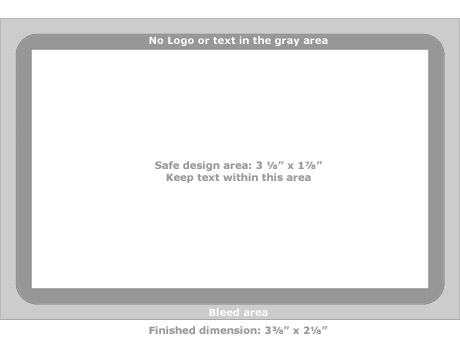 CLS Plasticard provides proofs to our customers of the finished design/layout or supplied artwork to check for correct spelling, dates, addresses, phone numbers, content and punctuation. Therefore we are not responsible for any wrong dates or misspelled words on artwork submitted by the customer or at time of final proof approval.
Please be advised that most color monitors are different, which means the colors on your plastic cards when printed may differ from what you see onscreen. Proofs provided to you via computer are NOT for color matching.
Once FINAL approval has been given and your plastic cards have gone to production, NO changes to the artwork may be made. If cards have not gone into production, changes can be made, but production time will not begin until the new approval date.
As is standard in plastic card manufacturing, we will NOT print without proof approval. CLS Plasticard does not and is not responsible for contacting point of sales systems regarding magnetic stripe or bar-coding information. All bar-coding, magnetic stripe information and final proof approvals must be submitted in a written form. Any complaints must be brought forth within 24 hours of receiving your product. We maintain the right to judge what a "printing" error or defect is.
If you do not currently have artwork and we will be designing your custom plastic cards for you, please provide:
Large, high-resolution logos to insure the highest quality.
Images at 300 dpi (dots per inch) or greater
This will help us design the best plastic cards possible with the best graphics. The minimum charge for this service is $100, which includes 2 revisions at no additional charge. (Subsequent revisions will be charged at $25 per revision.)
If submitting a complete, pre-produced layout, your design must meet the following requirements:
Teslin
The layout should be sized to 91mm wide x 60mm high x 300 dpi (dots per inch) with all text within a 3/16" boarder to allow for cropping.
Thermal
(Full color process) The layout should be sized to 3 3/8" x 2 1/8" x 300 dpi (dots per inch).
For best results, please send you original artwork in a layered file. However, a flattened file can be used if "print-ready" and saved in CMYK format as a high quality JPEG, TIFF, PDF, or PSD. A minimum $25 set-up fee will apply for "print-ready" artwork. That fee includes setting up your account and providing a digital proof for you to approve. You do have the option of having a live teslin or thermal proof sent to you via UPS next day letter for an additional $25 shipping fee. Another fee may be assessed for each revision that is made if another proof is required due to original artwork "error" (i.e., spelling or text change by customer)
Screen Print
The layout should be sized to 3 3/8" x 2 1/8"
For best results, please send your original artwork in a layered file. Original screen print artwork must be created in Illustrator 9.0 or below to insure that it is vectored. A minimum $25 set-up fee will apply for "print-ready" artwork. That fee includes setting up your account and providing a digital proof for you to approve. If you require a live screen print proof there will be an additional $100 proofing fee due to production of said card. Another fee may be assessed for each revision that is made if another proof is required due to original artwork "error" (i.e., spelling or text change by customer)