Key Card Advertising
Cheaper Key Cards for the Hotel,
More Business for the Advertiser,
The Perfect Mutually Beneficial Partnership
Information for Hotels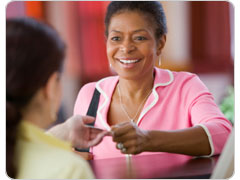 You already know about the benefits and convenience of plastic hotel key cards. But how about getting all of your hotel's key cards for free? It's possible! Quite often, there are many businesses that will cover the cost of your plastic cards for the opportunity to place advertising on them. These co-branded cards are a joint venture between the hotel and the advertiser.
When the advertiser is a large business, it's likely that the hotel will get the card cost covered 100%. However, smaller local businesses may only be willing to split the cost. In these cases, you may want to approach several small businesses to place their advertising on your keys and share the production costs. Either way, you win! Your business partners win, too, because advertising on plastic cards is compelling indeed. After all, hotel guests must look at their card to use it, and they probably use the card anywhere from 2 to 6 times per day during their stay. When a hungry hotel guest pulls out the key and sees a delivery pizza logo and phone number, whom do you think they will call first?
Information for Advertisers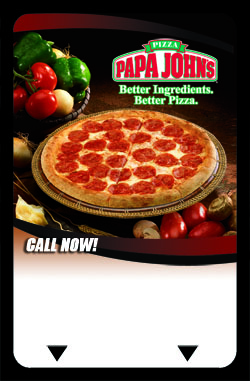 As many small business owners know, proper marketing techniques are one of the most important factors affecting a business's profit and expansion. Key Card Advertising is a rapidly expanding phenomenon in the marketing world.
Advertising on Hotel Key Cards is one of the most effective means of marketing around today. When a hungry guest checks into the hotel down the street, the first thing she does is look at the key card she has just been issued. Now imagine that on the front of the card is a full-color high-quality advertisement for your pizza restaurant. The savory pizza on the card subconsciously causes the traveler to be hungry for pizza. What happens next? She calls and orders pizza from your company!
Key Card Advertising can be inexpensive as well. A box of 500 key cards may cost around $200 (and depending on the deal you make with your hotel partner you may only end up paying a portion of this cost), yet it is seen by at least 500 unique guests (usually much more) multiple times a day, every time they open their hotel door. So, all in all, you are paying around $200 for over for several thousand advertisement views.
Producing your co-branded plastic cards
Like our standard plastic hotel key cards, co-branded keys can be printed in 1 to full color on both sides. Production time is 3-5 business days from proof approval to ship date for quantities under 5,000. On quantities of 5,000 advertised key cards or more, production time is 20-25 business days from proof approval to ship date. We do ask the customer to assume plus or minus 10% on their final quantity. The minimum order on co-branded hotel keys is 500, which is equal to 1 box.