Opening doors when plastic hotel cards fail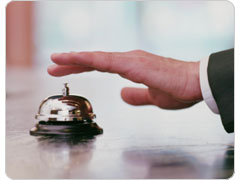 Door opening tools are used in hotels with card lock systems when a room cannot be opened from the outside with properly encoded plastic hotel cards. For the door opening tool to be effective, the door must have roughly a 1/8 inch slot at the bottom for the tool to slip through, as well as a pull down-style handle on the inside of the door. A section of the tool attaches to this inside handle and then pulls down, effortlessly opening the door from the inside. Obviously, the tool works with different plastic hotel key cards and systems from the ones sold here at CLSPlasticard. They are a bit hard to find, but you have come to the right place!
Orders can usually be shipped out the same day or the next day. We also include instructions on how to use the tool. As always, if you have any questions, please contact us toll free at (888) 209-7008 or email info@cardjett.com at your convenience.